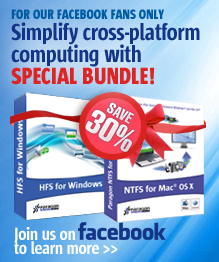 Are you a DUAL-BOOT user and running Windows on your Mac?
Experience total communication with the Paragon NTFS for Mac OS X 9.0 & HFS+ for Windows 9.0 BUNDLE!
The BUNDLE is NOW available to download at Paragon Facebook for one low price – 30% OFF the cost of purchasing two standalone titles!
With full read-write access to both NTFS and HFS+/HFSX partitions, this specially collected set of drivers creates a seamless environment for Mac users who need full-speed access to Windows' NT File System.
Join us on Facebook to get access to the offer!
Break down barriers between Windows and Mac OS-s!