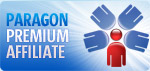 Paragon Software officially launched its new multi-level AFFILIATE PROGRAM to benefit IT consultants, industry associations and bloggers who recommend and sell Paragon Software Group's award-winning products, including the company's flagship Hard Disk Manager 2011 Suite, to their own reader and sales networks.
Paragon Software is the leading supplier of data backup, disaster recovery and data migration solutions to the PC market since 1994, while its best-selling Hard Disk Manager 2011 Suite has been named by the U.S. edition of PC Magazine as "the most powerful of all hard disk management programs" available on the market.
New affiliates are invited to join the program before September 1, 2011, to be eligible for a special 30 percent commission rate on monthly sales!
Explore the terms and benefits of the program and JOIN NOW!
Become our Premium Affiliate to get more benefits!