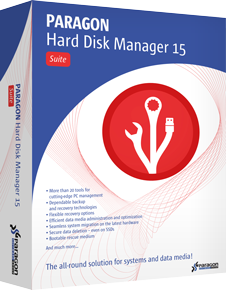 New features include embedded Recovery Media Builder 3.0, file-level backup and restore for virtual containers, agentless protection of Hyper-V guest machines. Windows 10 users get a free update with the release of the new platform.
We're happy to announce the release of Paragon Hard Disk Manager (HDM) 15 Suite and Professional – complete, all-in-one data management solutions for Windows PC users working in physical or virtual environments. The new HDM 15 lets users create backups directly in the form of virtual disks in any of the supported formats (pVHD, VMDK, VHD, VHDX). The Professional edition now delivers high-performance file exclusion filters for efficient backup and recovery operations, the capability of editing virtual hard disks, Hyper-V guest system backup, powerful scripting, and expanded support for virtual machines. Both editions allow the creation of bootable recovery media. HDM 15 Suite unites more than 20 advanced data management technologies, including partitioning, boot correction, file and image backup, disk copying, secure data wiping (even on SSDs), and flexible recovery options. The Professional version is packed with even more features. HDM 15 Suite and Professional users get an update to Windows 10 support for free!
New functions in HDM 15 Suite:
Embedded Recovery Media Builder 3.0 makes it extremely easy and flexible to create your own personal recovery environment
File-level backup/restore for virtual containers
Wipe SSDs user-friendly and permanently
Revised User Interface for easier navigation

New functions in HDM 15 Professional include all of the above, plus:
Agentless protection of Hyper-V guest machines
P2V-Restore from virtual containers
Read the official announcement
Unified, scalable protection solution for heterogeneous IT infrastructures now with enhanced performance, a new powerful deduplication mechanism, the most efficient Exchange database backup and recovery, protection of virtual machines hosted by Microsoft Hyper-V, Paragon's proprietary patent-pending data processing techniques and more!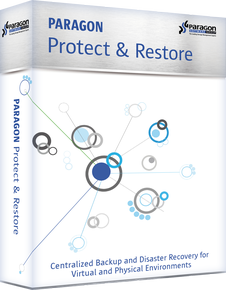 Paragon Software Group releases  Paragon Protect & Restore 3.5 – an advanced backup and disaster recovery solution with centralized IT management for organizations employing diverse platforms and technologies in physical and virtual environments. The new PPR 3.5 delivers rock-solid security in heterogeneous IT environments consisting of domain and non-domain machines.
Paragon Protect & Restore (PPR) provides fast backup and best-in-class recovery capabilities. It ties in seamlessly with hypervisors for agentless backups, VM replication and instant restores. This makes PPR the ideal solution for IT admins of complex IT infrastructures and companies with rather small and basic installations alike. The central management console allows the user to configure backup and retention policies, storage locations, and perform restores, all conveniently from one console.
Learn morea about the key features and benefits.
Moreover, with PPR 3.5, Paragon introduces a new and more flexible licensing model, with options to suit various scenarios.  To find out more about Paragon's cost-efficient starter packages for small and medium-sized companies, volume and non-profit discounts, please send inquiries to sales@paragon-software.com.
To download a free evaluation copy, please visit. To schedule a free webinar, please visit.
Posted in
Uncategorized
by .
Paragon Software is happy to invite all interested users to test the beta version of the upcoming Paragon Boot Camp Backup!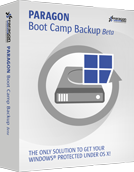 The only solution to back up Windows under OS X provides sector-level backup, incremental imaging, selective restore and much more under OS X 10.10 Yosemite!
More key features and benefits
Become a beta tester and download the product for free!
Five of the most active beta testers, who provide the most valuable feedback or suggestions will receive free commercial licenses of Paragon Boot Camp Backup. However we appreciate any input and all beta-testers will get 30% discount on the final commercial version of program.
Try an absolutely new technological solution before its commercial release and bring your input to get a free license of the commercial product!
Posted in
Uncategorized
by .
To gather typical usage scenarious of the product in order to provide better solutions Paragon Software kindly invites all users of ExtFS for Windows to participate in a short survey!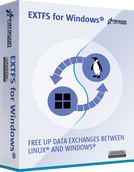 We really  hope our users make use of the product and enjoy its convenience. We will be happy to know more about our users' experience as we are open for a feedback of any kind.
The survey contains 5 short questions and will take just a few minutes to complete!
We appreciate you taking the time to share your experience!
Click to take part in the survey!
A complete data management tool for physical and virtual storage with maximum flexibility for SMBs and enterprises
Paragon Software released a free 90-day trial of Paragon Hard Disk Manager 15 Preview, a complete data management solution with flexible physical and virtual backup formats for businesses. HDM 15 supports the right backup formats for a variety of tasks including archiving or virtualization. Unlike traditional backup methods, HDM 15 supports a wide range of virtual disk formats, making it ideal for use with virtual machines. The Connect VD (Virtual Drive) feature allows IT administrators to set the partitioning and editing of virtual data media in just the same way they would with regular physical hard disks. VD backup features now provide the full set of backup tools, including file complement, incremental backup and others.
New major features include:
·         Virtual container replaces the previous backup archive
·         Recovery Media Builder 3.0
·         Easy virtualization
·         MS Hyper-V backup
·         Incremental, differential and file-based backups to virtual containers
Global Agreements with Kingston Digital Inc. and ZTE Corporation Boost Paragon Software's OEM Presence in Worldwide Mobile Device Market and Underscore Its Strength and Innovation in Embedded System Driver Technology
Paragon's  Universal File System Driver (UFSD) solutions have been licensed by leading technology manufacturers Kingston Digital Inc. and ZTE Corporation to fuel mobile product initiatives, allowing them to deliver upon the promise of high performance and interoperability for their customers.
As mobile device usage continues its explosive growth, with a recent study revealing that greater than 50 percent of online time is now spent on mobile platforms, interest in Paragon's UFSD driver technology is on the rise in the OEM market, according to Tom Fedro, President of Paragon Software Group Corporation.
"Paragon's Universal File System Drivers, including our exFAT and NTFS for Android offerings, play an important role in supporting our tier one OEMs' efforts in the mobility market by ensuring high performance and complete interoperability with storage media of all kinds," said Fedro. "We are very excited to have Kingston Digital and ZTE join our long list of OEM clients leveraging Paragon technology to deliver a powerful, uncompromising user experience."
Paragon Software today has announced record revenue growth for the first half of 2014, besting last year's number by 86 percent for the same period. Due primarily to this year's launch of the company's new Pure Channel partner program, this growth is being driven by the significant increase in the number of new opportunities registered by partners. In addition, the channel partners, resellers and managed service providers (MSPs) participating in Pure Channel are experiencing close ratios of well over 40 percent on the almost 500 new customer opportunities passed on to them through the program.
Focused on helping resellers simplify sales cycles and achieve profitable growth, Pure Channel represents a major overhaul to the company's previous channel program. It stands out in the market because it eliminates the need for traditional revenue commitments, certifications and contracts. The program is built around Paragon Protect & Restore (PPR), the company's industry-leading, image-based BDR product. PPR is optimized for small and midsize business and mid-enterprise markets and designed for physical, virtual and hybrid server environments.
"With Pure Channel, our goal is simple: to help our resellers and MSPs grow their businesses profitably. We've made it our commitment to do everything we can to be the most effective vendor on their line cards; the growth and opportunities we've delivered to date through the program this year – far outpacing the results of 2013 – are just the beginning," said Tom Fedro, president of Paragon Software Group Corp.
Paragon Software won the customer not only with PPR itself, but with the intensive technical support and active customer assistance it provides.
After thoroughly examining many different backup and disaster recovery solutions, the French regional broadcast station Fréquence Plus opted for Paragon Protect & Restore (PPR) to safeguard its extensive IT infrastructure.The broadcast station with one server, 10 employees and more than twice as many PCs was looking for an image-based backup and recovery solution they could depend on. The main factor was high resource performance and extremely fast disaster recovery to make sure the station could keep broadcasting.
With its central console, concept of archiving on additional storages (second-tier or cloud storages) and superlative data security and flexible (not to mention extremely fast) system recovery, Paragon's PPR met all of the customer's technical requirements. However, it required a great deal of support effort to implement the backup solution in Fréquence Plus' IT infrastructure: the implementation process was fraught with delays, since the Paragon technicians kept finding defective data blocks on various drives, and various compatibility problems meant that several updates had to be conducted first.
PPR combines backup and disaster recovery for virtual and physical servers in a single product. The solution simplifies backup and recovery processes, thus dramatically reducing downtime. All mportant systems, applications and data are safe – and are reliably managed in a single program interface. Backups are initially saved locally and can then be archived in a downstream storage location, which can either be local as well, remote on a network, or in online storage (the cloud).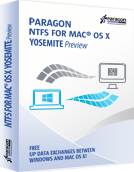 Download now: free-of-charge, and no registration is necessary! Using NTFS partitions of any kind with the new OS X has never been easier.
Paragon Software releases the first NTFS driver to support Apple's OS X Yosemite Developers Preview. Paragon NTFS for Mac® OS X Yosemite Preview is a free 60-day trial of NTFS for Mac® OS X Version 12 that will be launched this fall with the release of the new OS X.
Paragon NTFS for Mac® OS X Yosemite Preview is the first driver solution for fast access to NTFS partitions from the new Mac OS X 10.10 Yosemite Developer Preview. The program guarantees advanced support of NTFS file systems and provides fast and transparent read/write access to any NTFS partition under OS X 10.10 Developer Preview.
The commercial release of Paragon NTFS for Mac® OS X Version 12 is scheduled for the fall 2014. Users of NTFS for Mac OS X 11 will get a free upgrade to Paragon NTFS for Mac OS X 12 at that time.
Download now free-of-charge – no registration necessary!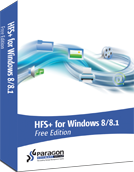 Data sharing between Mac OS X and Windows 8 domains is a real problem, as Windows doesn't know anything about HFS+. Paragon has the solution!
Paragon HFS+ for Windows® 8/8.1 Free Edition is a driver that provides full read-write access to HFS+/HFSX partitions on any type of disks under Windows 8/8.1. Based on Paragon's proprietary cross-platform Universal File System Driver (UFSD) technology this industry's fastest driver transfers files between Windows 8/8.1 and Mac OS X at a rate higher than native HFS file-system performance, providing full read-write access to HFS+/HFSX partitions on any type of disks (APM, GPT, MBR).
Paragon HFS+ for Windows® 8/8.1 Free Edition launch follows the successful release of the free  Paragon NTFS for Mac® OS X Snow Leopard edition earlier this year. In addition, Paragon Software offers a business  bundle that includes 5 licences for Paragon NTFS for Mac OS X and 5 licenses for Paragon HFS+ for Windows at a special discount.
Paragon HFS+ for Windows 8/8.1 Free Edition is available to download at no charge.  The full commercial version of the same product, Paragon HFS+ for Windows 10, is available to users of earlier Windows versions.
The Paragon HFS+ for Windows & Paragon NTFS for Mac OS X business bundle , designed for companies with IT environment consisting of Windows and Mac OS X systems, is available to purchase for 89,95$ (199,50$ value, if purchased separately).
Posted in
NTFS for Mac
by .