It finally happened: We're releasing a preview version of Paragon NTFS for Mac 15! Two years have passed since version 14, during which time we've gathered a lot of feedback from you. So, let us proudly present a fresh version of our well-known Mac software utility that eliminates boundaries with the Windows operating systems, enabling full read and write access to Windows-formatted drives on macOS.
New file system driver engine
The new edition comes with a robust new engine that guarantees advanced support of the latest NTFS file systems such as Windows 10 system compression and provides even faster, more transparent access to NTFS partitions under macOS.
We've designed the new UI based on your requests and feedback. Now all product functionality and options have been migrated from the previous System Preference Pane to a standalone macOS application: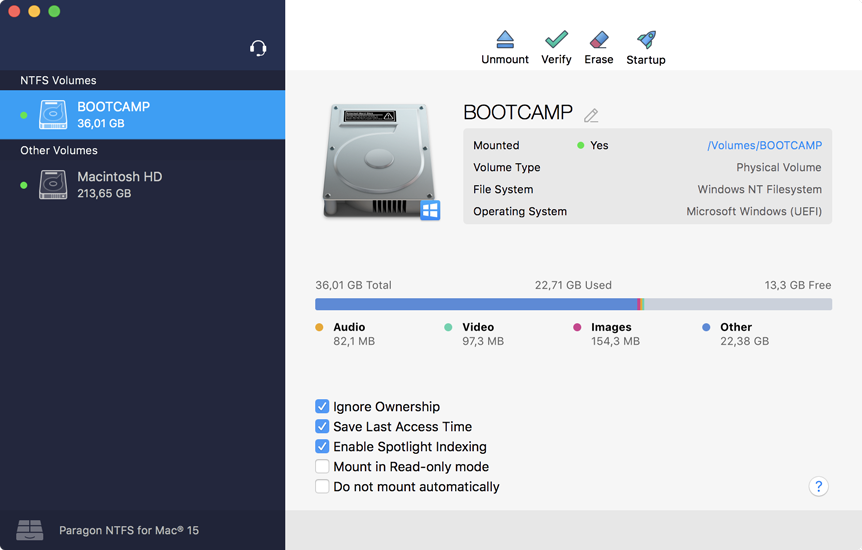 A menubar application provides quick information on mounted volumes, as well as startup and verify options: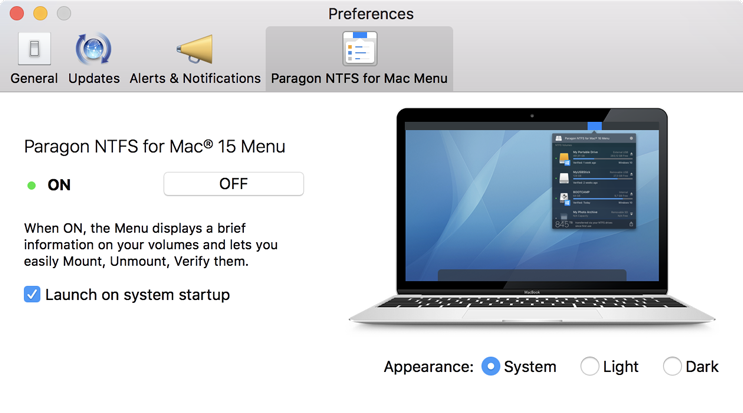 Here's what it looks from the macOS Finder:
Based on your feedback, we've also added support for two color themes: Dark and Light.
The first option, "Mount in read-only mode," denies write access to the selected volume to keep sensitive data intact. The second, "Do not mount automatically,"  prevents a volume from being mounted automatically on system startup or when the storage device is reconnected.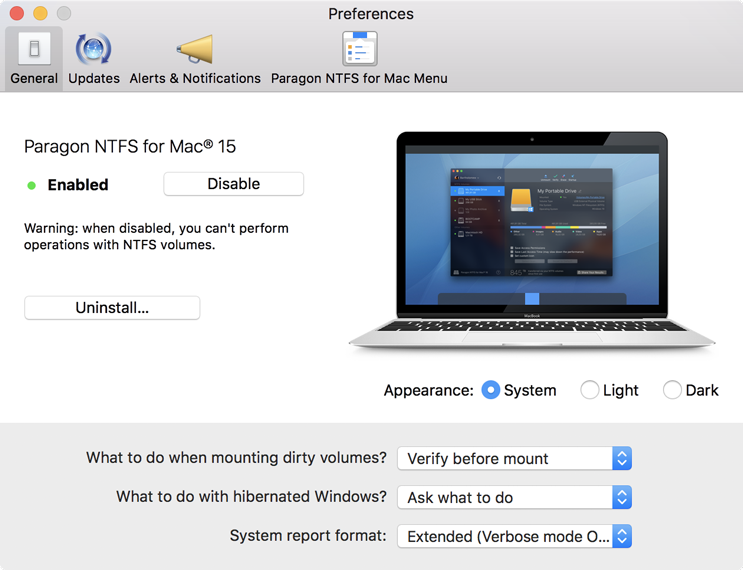 Support for Spotlight indexing
Spotlight is a search feature of Apple's desktop and mobile operating systems designed to quickly locate specific data including documents, music, and pictures. Spotlight also delivers other benefits, including quick access to definitions from the built-in dictionary. This feature is helpful without compromising performance by working periodically in the background. A major re-indexing only occurs after a major OS update.
The program detects all bootable volumes available on the system, allowing you to choose the one you'd like to boot from. After selecting a startup volume, you can choose whether to restart your Mac from it immediately or postpone the operation until next time.
Thanks to your feedback, we have managed to create a great utility you're sure to love. Please give it a try, and feel free to provide us with any thoughts or ideas about this new release. It's free to use until September 1st, 2017, so click here to download the latest version, or check your MyParagon account if you already own a previous version.