Milestone Celebration Uncovers Great New Gifts for Friends and Followers. "LIKE" Paragon Software Facebook? Let's Celebrate!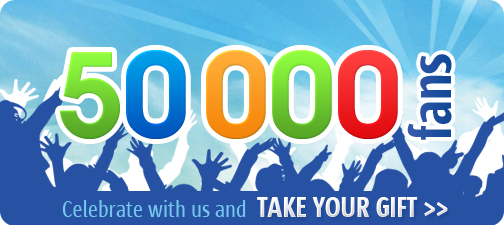 Dear Friends,
We now have over 50000 fans on Paragon Facebook! We are excited about your interest in what we do, and would like to thank you for being part of our growing community.
Beginning today, you are welcome to post and share your feedback, greetings or anything that interests you with the new audience of 50,000 fans!
Since its creation in 2009, Paragon's Facebook Page has become a primary resource to anyone interested in storage management, cross platform solutions and the IT market in a whole, and a valuable addition to the company's blog, Twitter, and Google+ social media channels.
To celebrate this historic occasion we are offering special present and significant discounts for our fans on the Paragon Facebook Page.
As promised we'll give EVERYONE 50% OFF of all products for home & home office. Additionally, EVERY 50th registered user will be given Paragon's famous Hard Disk Manager 12 Professional for FREE!
How it works:
1 – Fill the form on Paragon Facebook to register for the special
2 – Get your 50%OFF coupon code by email
3 – Win an "EVERY 50th registered" lottery and get a BIG prize – Paragon Hard Disk Manager 12 Professional – if you're one of every 50th registered user!
Invite your friends to celebrate with us! Hurry up! The registration will be closed on Monday!
Some fast Facebook facts:
• The top 5 locations for Paragon fans on Facebook are: United States, Germany, United Kingdom, Italy and Brazil.
• The typical fan is male, which are 20.8% between 25 and 34 years of age and 19.9% are between 35 and 44 years old.
• 86% of fans are male, 12% of fans are female.
• The single busiest day for new "Likes" in 2012 was on April 17th, with 5217 fans joining the Paragon Facebook community that day.
• A normal day sees a net increase of approximately 70 new fans.