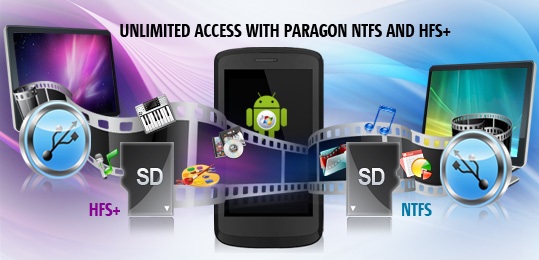 Breaks barriers between Android devices and Mac or Windows PCs! Cross-platform data interchange made easy, fast and safe!
Get full and unlimited access to the most widespread file systems in the World on your Smartphone! Easily copy, transfer and modify data on NTFS volumes alongside with HFS+ ones. Forget about incompatibility issues between your mobile handheld and its big brothers – PC and Mac. Attach to your device any flash drives, hard disk divers and other media with NTFS and HFS file systems and work with them as if there have simple FAT32 one.
What's new?
The newest edition includes the industry's first NTFS and HFS+ partition automounting feature! The new automount option, which can be conveniently activated or disabled in "Settings," allows users to simply insert an SD card or a USB flash card, and all NTFS and HFS+ partitions will be automatically mounted.
Visit our website to find key product scenarios.
The technology is available to download for free at Google Play.