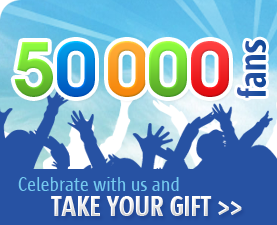 Dear Friends,
We are very close to finding our 50,000th fan on Paragon Facebook! We are excited about our fans' interest in what we do, and would like to thank all of them for being part of our growing community, and invite EVERYONE who is not in yet to join us!
This milestone is a great time for our fans to collect some gifts! Celebrate with us and take advantage of one (or two!) of our special offers.
When our Facebook fan count reaches 50,000, we'll give EVERYONE 50% OFF of all products for home & home office. Additionally, EVERY 50th registered user will be given Paragon's famous Hard Disk Manager 12 Professional for FREE!

How it works:
1 – Fill the form on Paragon Facebook to register for the special – we'll collect your requests starting today!
2 – Share with your friends to help us get our 50,000th fan to join Paragon Facebook
3 – Get your 50%OFF coupon code by email within a few days of Paragon Facebook reaching its 50,000th fan!
4- Win an "EVERY 50th registered" lottery and get a BIG prize – Paragon Hard Disk Manager 12 Professional – if you're one of every 50th registered user!
While we all anticipate the 50,000th fan to join our community, invite your friends to celebrate with us!