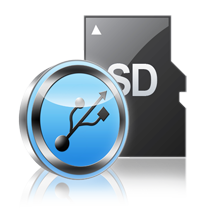 1 – The highest performance on the market
Compared to open source NTFS solutions, Paragon NTFS & HFS+ for Android achieves the highest performance levels: Kernel-level implementation option, fine tuning and consistent development allow Paragon's driver to achieve the highest speeds to date. The first software developer to implement a full set of drivers with read-write access to partitions of any file system, Paragon delivers the highest performance cross-platform technologies — proven by millions of installations around the world from consumers to embedded systems manufacturers. Intel, NVidia, Broadcom, Realtek, Huawei-HiSilicon, Marvell, Telechips, Acer and many other companies have selected our solutions for use in some of the world's best-selling devices.

2 – User-requested NTFS and HFS+ partition automounting feature is finally available!
The only cross-platform tool on the market with NTFS and HFS+ partition automounting feature! The new automount option, which can be conveniently activated or disabled in "Settings," allows users to simply insert an SD card or a USB flash card, and all NTFS and HFS+ partitions will be automatically mounted.
3 – The fastest Mount functionality enables instant access to the content. No more waiting!
It can take up to a minute to mount media from an external NTFS volume. Paragon Software provides a new Fast Mount feature to retrieve background file systems while the operating system proceeds with other tasks. The software also checks file system integrity to ensure the mounted volume is clean and consistent.
4 – Strong journaling capabilities: safely complete uncompleted transactions even after unsafe media removal
Imagine the following scenario: Unplug your SD card or USB Flash from the desktop PC without having to take further actions – like clicking on the "safely remove" tray app. Some non-completed file system operations can damage data. Paragon's solution to this problem is to assure complete safety through a technology that responds to the transactions before any other application starts working with the media.
5 – Smart Standby mode technology
The new Standby Mode technology allows external devices to be ejected without any effort, while guaranteeing complete data safety at the same time.
6 – Enhanced functionality is out
Paragon Software added new functionality:
• Check utility allows users to quickly verify and repare damaged volumes.
• Format utility allows to re-format their drive with NTFS/HFS+ filesystem.

7 – Prompt assistance from highly qualified engineers
Receive prompt assistance from highly qualified engineers of Paragon Support Team. Post your request at http://www.wilderssecurity.com/showthread.php?t=333019 or email us directly at feedback@paragon-software.com with any problems or requests.
The company invites interested Android users to download Paragon NTFS & HFS+ for Android, available immediately and FREE of charge at Google Play.