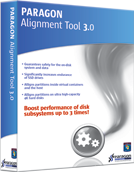 Do you know if partition alignment is really significant for advanced format hard drives usage?
Dell – the pioneering developer in home, small business and enterprise computing – talks about desktop system image support for advanced format hard drives for their notebooks and shares its experience with the wide range of notebook users. Dell considers partition alignment as required for older Operating Systems and recommended for new Operating Systems in order to insure proper HDD performance and imaging between HDDs of differing sector sizes.
The instructions for installing and using the Paragon Alignment Tool now available to download from the Dell Support website in Dell Drivers and Downloads for all types of Dell products' users – from home users to small businesses and enterprise IT.
Visit Dell's website to learn more tips in advanced format hdd-s usage along with Partition Alignment Options!