Running Windows on your Mac? Not a problem with cross-platform technologies from Paragon!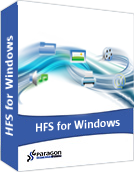 Pargon's NTFS for Mac® OS X 9.0 and HFS+ for Windows 9.0 specially designed to eliminate barriers between Windows and Mac operating systems, and ease data manipulation and data transfer for dual boot users.
Simple to install, Paragon NTFS for Mac OS X 9.0 is a standalone application that adds NTFS file allocation system support to Mac OS X, including Mac OS X 10.7 Lion, and allows partitioning operations with NTFS volumes under Mac OS X.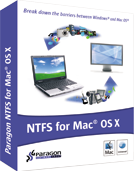 Paragon HFS+ for Windows 9.0 is an application based on a special driver that allows the operating system to access and manipulate HFS-formatted files.
Paragon NTFS for Mac OS X 9.0 and HFS+ for Windows 9.0 are based on Paragon's own unique Universal File System Driver (UFSD) technology – specifically developed to provide full access (read/write, format, etc.) to volumes of the most popular file systems (NTFS, HFS+, FAT, Ext2/2FS, etc.) under various platforms (Mac, Windows, Linux and DOS).
Learn more about the drivers