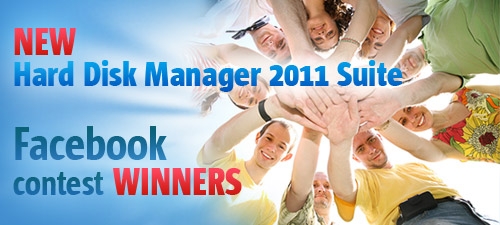 Dear Friends,
The CONTEST is now finished and we are ready to announce the
WINNERS!!!
Here are the TOP-10 stories "WHY DO I NEED HARD DISK MANAGER 2011 SUITE" created by the participants:

Doyle Farr:
"I have several computers with multiple hard drives in each and looking to upgrade them in the near future. The software would makie management, backups, and migration very easy :)"
Stanislas Imbert:
"I need Paragon Hard Disk Manager Suite 2011 because it will be for sure the best tool to migrate from my old HDDs to my new SSDs.Paragon Software Group is known to be the best company in developing reliable advanced tools to manage partitions. As an old 2008 Suite user, I'd love to win the new 2011 Suite"
Hovsep Avedissian:
"Had a somekind weired problem, after cleaning my computer hardware accidently i had disconnected a cable from my WD hard drive containing windows 7 to my motherboard, so the fact was that i couldnt boot and I had NTLDR missing messages, so even i connected again the cable the same messgaes NTLDR missing was there, so i had a mbr problems i think?, luckily My former Hard Disk Manager2010 was here to help me and to recover back windows with all files"
Reva Skie:
"I need Hard Disk Manager 2011 Suite because my few months old laptop is already freezing and locking up. I fear a catastrophic crash in my near future"
Michael Merry:
"I need Hard Disk Manager 2011 Suite because i suffered from a flooded basement in the summer and preach backing up data like it was a religon. How can I preach the gospel if I cannot follow the path myself. By using Hard Disk Manager 2011, I can set an example others who ask for my help can follow"
Константин Докучаев:
"The most weirdest thing that I'm an Acronis beta tester, so I already have all what I need. But anyway my story gonna prove that I need PHDM"
Daniel Fenn:
"I need Hard Disk Manager 2011 Because I don't have any updated software to manage my hard drive for my second computer"
Soziophob Aus Linden:
"I need Paragon Hard Disk Manager Suite 2011 because i play too much with software, os and new hardware"
Funs Key:
"I use a dell company laptop with a cooler fan (as everyone knows dell needs a cooler if one has to use it on ones lap). Unfortunately I dropped my lappy exactly because of this cooler and my windows went bsod. I couldn't boot it after and o…n contacting dell and performing a few tests dell determined that the hdd had malfunctioned and it needed replacement. Luckily I had used Paragon Drive Backup 10 Pro suite to backup my entire drive just 2 weeks prior, so that when my new hdd arrived I was up and running in just a couple of hours and only a couple of weeks worth of my data was lost. Paragon saved my hide that day and I would love to win a high quality product like Hard Disk Manager which will not only help me with backups but also with migrations"

Ian Henderson:
"Managing large hard drives needs advanced tools"
Have a look on the WINNERS in 2 more NOMINATIONS:
The most IRONICAL strories ever :
Woody Bowles:
"I need Hard Disk Manager 2011 Suite because like myself, my computer systems are getting old and I think my "hard drive has gone floppy"!! With a name like "Woody" there is no possible way for this to be a good "thing". I would prefer to t…reat this "prophylactic ally" rather than trying to "get things up" and running after it is too late. Please Paragon, don't let me develop "Erectile Disk-Function" when Hard Disk Manager 2011 Suite could treat this before it "goes down"
Adam Jarvis:

"I don't actually need HDM 2011. No! (I've convinced myself), but then again I don't want to feel the anxiety of that clicking noise from my hard disk…
…and those clammy hands as I remove the hard disk and attempt to back the disk up afte…r the fact with software that then fails to recognise the Windows 7 NTFS File System, with the disk clicking/stalling progressively getting worse.
I don't want to try to remember the list of files I've downloaded/created since my last backup, the invoices I've created and sent, the payments that have been received. Has this or that invoice been paid?
I don't want to try to resurrect my music playlists to how I had them and I really,really don't want to install Windows 7+Updates from scratch again.
I don't want to head out leaving my precious laptop in my Hotel room knowing I haven't ever backed up the data on it, only to return to the room – and having my heart sink – but thankfully remembering it was actually in the car.
There's plenty things in life I can convince myself of, but skimping on a good backup using Paragon HDM 2011 isn't one of them – piece of mind really counts, Paragon HDM 2011 simply works when it really matters"
The FRIENDLIEST story :
Florin Ghita:
"I very much appreciate Paragon Software for their good quality products! I will use Hard Disk Manager 2011 Suite to fix my friends computers, if i'll win of course…"
ALL THE WINNERS will get the NEW Hard Disk Manager 2011 SUITE to make their plans come true!
CONGRATULATIONS and hope to see all of YOU
joined Paragon's future contests on FACEBOOK!