Paragon Drive Copy 11 Professional performs ANY computer MIGRATION no matter the source or target!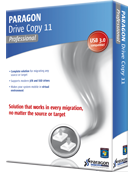 You no longer need to spend hours performing tedious, complicated re-installations when buying or upgrading your PC. Take all the best from the system you're used to – and simply move it to the new environment.
Use Drive Copy 11 Professional for fast, efficient computer migrations of any software/hardware combination, from any source, to any target.
The software supports all Windows versions, allowing ALL types of migration, including migration to SSD and 3TB drives!
The new solution is avaliable for $39.95.
Would you like to SAVE on the new release!? FIND a promo code at Paragon's FACEBOOK PAGE and get special INTRODUCTORY 20% discount!
Hurry up! The code is time-limited and expires on February, 15!