Paragon Virtual Disk Mounter beta – the first solution with full high-speed access to virtual disks under OS X!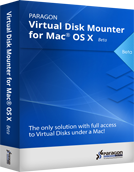 Need to access data on your virtual disk or dreaming about fast and easy data exchange between the host and guest OS on a Mac? We've got you covered! Introducing new Paragon Virtual Disk Mounter for Mac – the first and only solution on the market which gives you full high-speed read/write access to virtual disks under Mac.
Be among the first to get access and try our latest unique solution that many Mac users have been waiting for a long time!
Key Features & Benefits
Very easy to use – mount a virtual container by double clicking or using Finder's "Open With…" context submenu.
Alternatively a powerful CLI (Command Line Interface) utility allows you to create and mount a virtual container.
High performance – high access speed to virtual disk content and high-speed data exchange between host and guest OS. 
The first and only solution with full read/write access to virtual disks on OS X.
We believe that the strong beta testing community and early adopters help us bring the new tool to a higher quality level prior to its official release. We invite users to become a beta tester and join the community of IT enthusiasts to make a better product!