Windows XP – currently utilized on 51% of computers worldwide — leaves 3TB+ disk space inaccessible. With Paragon GPT Loader you can utilize the ENTIRE hard drive! Get it now for free!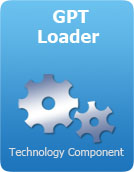 Hardware manufacturers are producing disk drives with geometric increases in disk capacity compared to a few years ago, broadening their appeal and functionality for a wide spectrum of end users.
The latest one – new 3TB drive – can be used as external storage devices alongside desktops and laptops, or inserted inside workstations and home computers BUT is out of the supported size range for the popular Windows XP 32-bit system. Though two new Windows versions have been released since XP, it still utilized on 51% of computers worldwide, meaning, roughly half of PC users simply cannot use the new hard disk drives…
Paragon Software, however, suggests a cost- and resource-effective way to achieve full access to 3TB drives under Windows XP: the use of a specially designed driver, Paragon GPT Loader, which adds the functionality to support the GPT partitioning scheme to grant full, native access to large hard disk drives under Windows XP.
Learn how it works
The new technology component is available for free to IT Pros as part of the Early Adopter Program