Unified, scalable protection solution for heterogeneous IT infrastructures now with enhanced performance, a new powerful deduplication mechanism, the most efficient Exchange database backup and recovery, protection of virtual machines hosted by Microsoft Hyper-V, Paragon's proprietary patent-pending data processing techniques and more!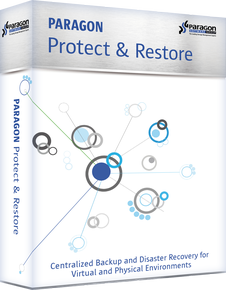 Paragon Software Group releases  Paragon Protect & Restore 3.5 – an advanced backup and disaster recovery solution with centralized IT management for organizations employing diverse platforms and technologies in physical and virtual environments. The new PPR 3.5 delivers rock-solid security in heterogeneous IT environments consisting of domain and non-domain machines.
Paragon Protect & Restore (PPR) provides fast backup and best-in-class recovery capabilities. It ties in seamlessly with hypervisors for agentless backups, VM replication and instant restores. This makes PPR the ideal solution for IT admins of complex IT infrastructures and companies with rather small and basic installations alike. The central management console allows the user to configure backup and retention policies, storage locations, and perform restores, all conveniently from one console.
Learn morea about the key features and benefits.
Moreover, with PPR 3.5, Paragon introduces a new and more flexible licensing model, with options to suit various scenarios.  To find out more about Paragon's cost-efficient starter packages for small and medium-sized companies, volume and non-profit discounts, please send inquiries to sales@paragon-software.com.
To download a free evaluation copy, please visit. To schedule a free webinar, please visit.