Paragon Software is happy to invite all interested users to test the beta version of the upcoming Paragon Boot Camp Backup!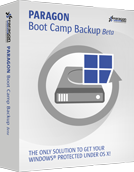 The only solution to back up Windows under OS X provides sector-level backup, incremental imaging, selective restore and much more under OS X 10.10 Yosemite!
More key features and benefits
Become a beta tester and download the product for free!
Five of the most active beta testers, who provide the most valuable feedback or suggestions will receive free commercial licenses of Paragon Boot Camp Backup. However we appreciate any input and all beta-testers will get 30% discount on the final commercial version of program.
Try an absolutely new technological solution before its commercial release and bring your input to get a free license of the commercial product!