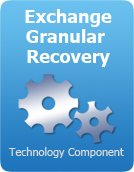 Paragon Software has developed a unique technology that redefines the traditional protection of MS Exchange by completely discarding brick-level mailbox backups while still having the option for granular recovery.
This plug-in for MS Outlook 2003/2007 gives you transparent access to the mail databases of MS Exchange Server 2003/2007/2010 through the standard facilities of MS Outlook for easy and fast data recovery at a granular level, thus it saves you from the headache of making brick-level mailbox backups while still providing the option to recover not only the whole mail server, but also a single mailbox, folder, message, contacts item, etc.
PEGR is available for free only as a demo version that has the certain functionality restrictions.