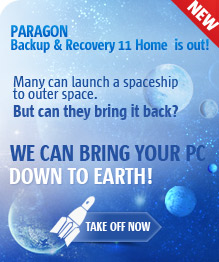 Now offers WinPE 3.0 in addition to THREE other recovery environments, making it the most advanced system recovery software available on the market!
The 11th edition of Paragon's Backup & Recovery Home is the most reliable way to safeguard data with complete disk backup and restore functionality.
Whether you want to simply save your data or create complex backup routines – this package of useful tools covers all your needs. The Home Edition quickly backs up your files and folders, operating system or even your entire hard disk to any storage you choose.
In case of any data loss, this 11th edition allows PC users to recover their systems from FOUR different emergency environments, such as WinPE 3.0, Linux, DOS or native Windows.
Before takeoff, prepare yourself for landing with fast and flexible backup technologies. CLICK to be prepared!