Want to get the most out of your ESX or Hyper-V infrastructure?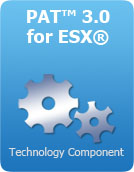 Virtual hard drives are using page sizes similar to those of found with newer Advanced Format Drives. Misalignment is very common for this type of drive, which results in redundant read/write operations, and critically affects overall performance and (indirectly) hardware lifespan. The same holds true for virtual hard drives — even a simple migration of a virtual machine from one VMware ESX Server to another could end up with a misaligned virtual drive. The situation aggravates when the host's hard drive and virtual drives are both misaligned — the number of redundant read/write operations doubles.
Paragon Alignment Tool™ (PAT) 3.0 for ESX® is the next generation of the best-selling classical PAT that is aimed exclusively at optimizing virtual drives. It's been designed primarily for IT personnel who administer Windows or Linux guest environments that are running on VMware ESX Server. However it can also be very useful for improving the disk subsystem performance of guest operating systems under control of Microsoft Hyper-V Server.
Learn more about the new component