One smart Apple
A few weeks ago, Apple has finally presented a much-anticipated update to the new MacBook Pro. The most powerful and thinnest MacBook up to date, it has been redesigned, stuffed with improved hardware and amazing new features.
One of the new features setting the new MacBook Pro apart from the previous models is a brand new Touch Bar, built into the keyboard. It is a multi-touch OLED display panel that offers contextual controls and visual settings that change based on what app you're using. You can interact with the Touch Bar through taps, swipes, and other multi-touch gestures, with the display supporting input with up to 10 digits at a time.
All existing Apple apps have been updated to take advantage of the Touch Bar, and many third-party developers like Photoshop, Pixelmator, Affinity Designer, DaVinci Resolve, Sketch and others already have plans to build in Touch Bar support and special controls into their apps by the end of the year.
Display in the machine has been significantly improved and goes in 13-inch and 15-inch versions. It's brighter, offers better contrast, and includes wide color gamut support for richer colors, especially in the green and red spectrum. However, resolution remains the same: 2560 x 1600 on the 13-inch display and 2800 x 1800 on the 15-inch, but the screen still looks amazing.
Apple's 15-inch MacBook Pro is the most powerful portable notebook computer the company sells, with quad-core processors, with built-in Intel HD Graphics 530 and with discrete graphics cards from AMD, and a larger size setting it apart from the 13-inch machine.
With CPU, GPU, and SSD improvements, Apple says the 15-inch MacBook Pro is 57% faster at video editing , 130% faster rendering 3D graphics, and 60% faster for gaming compared to 2015 MacBook Pro models.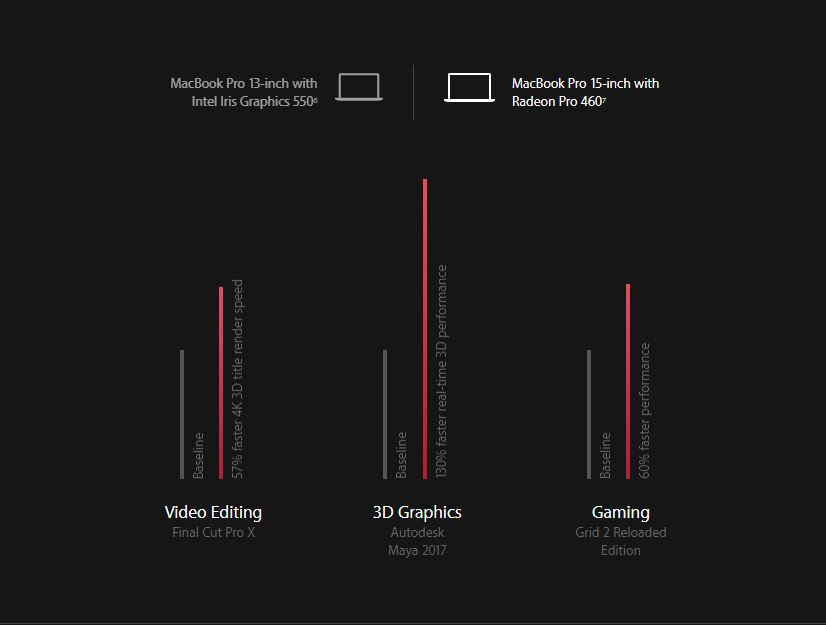 Base models come with 2.6 or 2.7GHz quad-core Intel Core i7 processors and can be upgraded to a 2.9GHz quad-core Intel Core i7 processor with Turbo Boost up to 3.8GHz.
Two base machines includes Radeon Pro 450 and 455 (each with 2GB VRAM), while the Radeon Pro 460 with 4GB VRAM is available as an update option.
The 15-inch MacBook Pro will switch between the two graphics cards to maximize battery life. The low-power integrated card will be used for non-intensive tasks, while the Radeon Pro will be used for something that requires more GPU power such as 3D rendering or video editing. Built on a 14-nanometer process, the Radeon Pro would be up to 2.5x times more powerful.
Overall, the new 15-inch MacBook is a powerful workstation for media professionals of any kind. With all new features and hardware, the new machine would easily handle any task with graphic design or video editing.
By the way, the component that has received one of the biggest upgrade in the MacBook Pro, is the SSD. 256Gb base storage space and a possible upgrade up to 2TB, and a reading speeds of 3.1GB/s and writing speeds up to 2.2GB/s, makes new MacBook Pro is twice as fast as the SSD in previous MacBook Pro models.
All that calls for the best software to handle large amount of information being transferred and written to an external flash or hard drive. And that's when our software comes to help. With the new update, ExtFS for Mac 10 now can quickly mount even large, 2TB volumes. And with NTFS for Mac 14 you'll get full read/write access to any version of NTFS under macOS with the transfer rate is the same as with the native HFS file system!
New Great Migration
Once you decide to buy this Apple's Lamborghini of laptop computers, you have to transfer all the data from your old MacBook or iMac. Of course, it's possible to do with inbuilt Mac utilities, like Time Machine or Ethernet cable, but the most reliable way is to make a full copy of your disk, using a specialized third-party utilities, such as Hard Disk Manager for Mac.
All you need is your old Mac and your brand-new Mac, plus a cable to connect them. Once you got all the ingredients ready, follow these steps:
Power up one your new Mac while holding the 'T' key down to enter Target Disk Mode. Once the machine starts up in Target Disk Mode, it will appear as a disk icon on the desktop of the other computer.
Connect your Macs via cable. Open Paragon HDM for Mac on your old machine. To launch the "Copy Hard Disk" wizard, right-click on the hard disk (largest rectangle with partitions inside) and select "Copy Disk".
Specify the target hard disk using the drop-down menu.

If you wish to copy the entire hard disk, leave all Source Partitions checked. You may also want to uncheck Resize boxes for this scenario. Otherwise, uncheck "Copy" box for partitions you wish to leave behind.

Use "Raw" option to copy partition in sector-by-sector mode, making the resulting partition fully identical to the original one. This also helps to avoid problems with processing unrecognized or protected file systems.

Click "Copy". You can now preview your changes! Press "Apply Operations", then – "Apply". Done!

That saves a lot of time and only depends on the cable's transfer speeds you use. No dependence on Wi-Fi connection or Internet speed. Also, make sure to power plug your machines! When you are done, you can use your new Mac as if you were using you old one.

Paragon Hard Disk Manager for Mac is not just for copying — it's a powerful application that covers all aspects of the computer's life cycle, including drive partitioning, file system optimization and repair functions, data backup capabilities, and irreversible data wiping. It also supports the file systems of OS X, Windows, and Linux.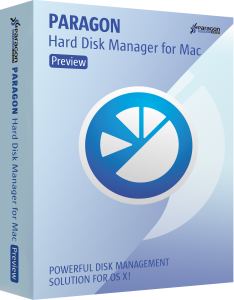 System Integrity Protection in OS X 10.11
El Capitan support;
Sector-level backup for best perfomance and backup/recovery speed;
Move, resize, undelete partitions and modify their properties;

Migrate Windows OS from one Mac computer to another;