Christmas is just around the corner, and every year, the author of this article asks himself the question: "am I getting a new Mac?"
OK, to be honest, the author never got a Mac or PC as a present, be it for Christmas or any other occasion. Beyond that, he wouldn't necessarily choose a machine like that at all if he still had three wishes left.
But first of all, since no fairy ever came along with three wishes to give (at least not yet), and secondly, that it's been a few years since the author last believed in Santa Claus and thirdly, that he doesn't know anybody else who could make such wishes come true, this question is largely irrelevant.
Be that as it may: The hard disk has been making some really strange sounds for a while and the excessively loud fan noise has been getting on the author's tender nerves for a long time by now. The laptop already has nearly five years under its belt – maybe it really is the right time to start looking for a new one?
An iPad, perhaps, or maybe even one of these hip new Macbook Pros with a touch bar? Or one of the new Microsoft Surface Books or maybe even a Surface Studio all-in-one PC would be a real eye-catcher.
The agony o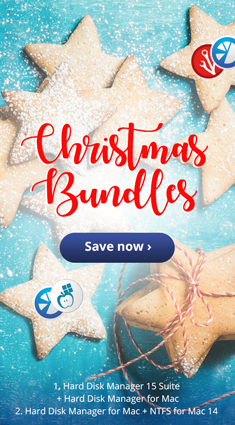 f choice, so the saying goes. In this case, it's also hard to balance out the pros and the cons. In spite of its somewhat higher price, the author tends a bit towards Microsoft's classy laptop, not least because of its integrated tablet function.
One way or another, something has to be done about clattering hard disk – and quickly. An extra backup can never hurt, and if you pick the right one, you might even be able to restore your hard-earned work environment on the new hardware. If the author chooses a new laptop, then he could use his entire system on the new machine without having to change it – including all of the applications. And since the author earns his daily bread at a software company – one that specializes in data migration, backup and restoration – he naturally took precautions, and with the Paragon Hard Disk Manager, he had the right tool at hand.
If the author decides to get a new Surface or Macbook later on, he won't have any trouble getting started. With the Hard Disk Manager for Windows or Mac, he can optimize for one operating system or the other, move his existing systems to new hardware, back up his Mac OS as well as his Windows PC, and much more. Observant readers may have already noted that the author feels at home on the Mac as well as with Windows – if not, then it's clear now.
Switching between the two systems has become second nature to him; so much so that he doesn't always remember which machine he created which file on. But thanks to Paragon NTFS for Mac drivers, this doesn't matter much anymore. He can access his files from either world with the greatest of ease.
If this gets anybody to thinking: "It's so easy to juggle between Mac and Windows? I wish I could do that!" then the Paragon Christmas bundle would be the thing to get. The double-pack offers big savings and, if any new hardware does show up under the tree, then Paragon's time-tested solutions will be a genuine must-have.

UPDATE: Since the author, in spite of all his efforts, has started to accept that he won't be getting a pay raise, he ended up deciding against both a Surface a MacBook and opted for a more affordable yet comparably high-performance model from another manufacturer.
UPDATE: The hard disk ended up conking out after all, but thanks to the backup and the right Paragon tools, the author made it through unscathed.
PS: The author also works with a famous Linux distributor, but that's another story.