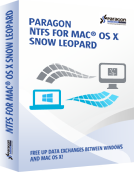 The FREE program includes all the latest features and supports multiple languages!
Paragon Software grants Mac OS X Snow Leopard users full licenses of Paragon NTFS for Mac OS X Snow Leopard free of charge. Paragon NTFS for Mac OS X Snow Leopard is designed to eliminate barriers between Windows and Mac and provides complete support of Mac OS 10.6 Snow Leopard in 32/64bit mode.
The product ideally suites  Mac OS X 10.6 Snow Leopard users who is seeking for an easy way to exchange the data between Mac OS X and Windows OS. Based on the full version of Paragon NTFS for Mac OS X, the driver enables to provide fast and transparent access to NTFS partitions as Mac OS X-native, thus achieving an unprecedented high level of performance. Mac OS X apps can process such partitions without any restrictions – browse contents, read and modify files, copy and create new files and folders, etc.
For the latest commercial product versions CLICK here
Paragon's other cross-platform technologies are available to consumers and manufacturers of data storage systems at the Paragon driver portal