Great savings on essential software tools now until November 20, 2014!
It's Paragon Software Group's 20th anniversary and everyone gets deals! The company celebrates its 20th anniversary by giving out a 20% discount on all products, including the latest editions of its flagship tools, Paragon Hard Disk Manager 15and NTFS for Mac 12. The sale starts today and goes until November 20, 2014.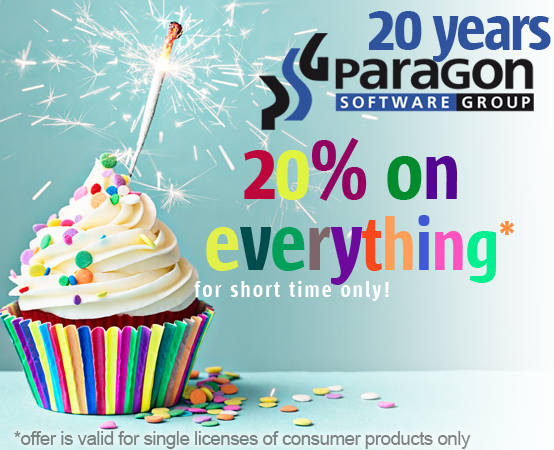 PSG was established in 1994 as a software development company with focus on data backup and recovery. Today the company is mostly known for Paragon Hard Disk Manager and NTFS for Mac – its flagship lines of data management and cross-platform software solutions used by millions of users in more than 150 countries. 20 years of PSG means 20 years of innovation and excellence in data security, system management and file system interoperability, coupled with excellent customer service and affordable prices. In addition to developing software solutions for consumers, the company's enterprise-level technologies have been integrated by such global players as Siemens, Bosch, Seagate, Dell and others.
"Paragon Software is extremely proud to be marking its 20th anniversary – a significant milestone for a software company. In addition to a comprehensive selection of essential data management tools, the company became the industry's first software developer to implement a full set of drivers with complete read/write access to partitions of all popular file systems. Thanks to our cross-platform tools, users of multiple devices seeking to solve incompatibility issues on consumer electronics can get free or inexpensive tools to accomplish these tasks," commented Konstantin Komarov, CEO of Paragon Software Group.
A special 20% off anniversary offer applies to all Paragon products and is valid until the 20th November, 2014!