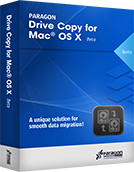 Join Paragon's Beta Testing Program to test out Paragon Drive Copy for Mac® OS X Beta – a unique solution for smooth data migration!
Paragon Drive Copy for Mac® OS X is an intuitive user-friendly wizard that will help you make an exact clone of your Mac's disk or any of its volumes to another disk or a virtual container in a few simple steps.
We invite all interested users to take part in a beta testing of the new Drive Copy tool. Bring your input to help Paragon elevate software solution to a higher quality level before commercial release. As a participant, you are able share your ideas, and together, we can create the best product possible.
Five of the most active beta testers, who provide the most valuable feedback or suggestions will receive free commercial licenses of Paragon Drive Copy for Mac ® OS X. However we appreciate any input and all beta-testers will get 30% discount on the final commercial version of program.