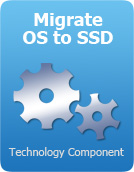 Quickly and easily provides ONE-STEP system migration regardless of the operating system or size of the drives
As people take advantage of the drives' better access time, read/write speeds, and resistance to physical shock, the challenge becomes moving massive amounts of data, applications and the operating system to a smaller SSD format.
Paragon Migrate OS to SSD meets this challenge by providing an intuitive wizard designed to simplify the migration process for SSDs. The latest file exclusion technology increases migration speed!
Click to explore the new features of the premium utility for migration.