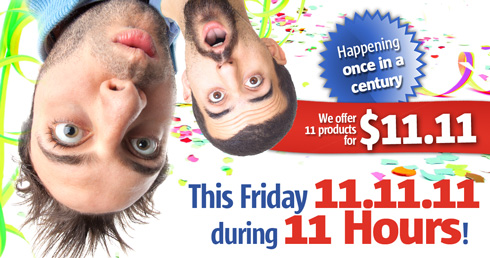 Happy 11.11.11! Paragon Software is celebrating this lucky day with our valued customers by offering 11 of our products for $11.11 each for 11 hours only! Happy coincidence? We hope so!
Take advantage of this timely offer and visit the 11.11.11 web page or the Paragon Facebook page today starting 7 am EST, or you'll have to wait another hundred years for a chance like this!
11 bestsellers include:
Paragon Hard Disk Manager 11 Suite
Paragon NTFS for Mac OS X 9.5
Paragon Backup & Recovery 11 Home
Paragon Partition Manager 11 Personal Edition
Paragon HFS+ for Windows 9.0
Paragon CampTune 9.5
Paragon Migrate OS to SSD
Paragon Alignment Tool 3.0
Paragon System Backup 11
Paragon Disk Wiper 10.0 Personal Edition
Paragon Encrypted Disk 4.0
Take advantage of this moment in time to grab some of the best software in history!
The offer is available on 11.11.11 from 7 am EST till 6 pm EST at Paragon Software website or Paragon Facebook page.