We have finally released Paragon ExtFS for Windows 4 – an updated version of the utility software designed to grant full read and write access to Linux file systems under Windows. Paragon ExtFS for Windows simplifies data sharing, providing users with the ability to transfer files between otherwise incompatible systems at a higher data transfer rate than native file-system performance.
New features:
New! Supports nearly all of the latest Linux format Ext4: 64bit, dir_index, extent, extra_isize, ext_attr, flex_bg, has_journal etc. (Linux bigalloc, journal_dev, meta_bg features are not currently supported.)
New! The driver now works much faster, even when the Linux volume is short on free space. The product is able to transfer a larger amount of smaller files at twice the speed, with an increased rate of random read/write operations.
New! Unlimited trial version. Following the initial 10-day trial, the data transfer rate decreases to 5Mb/s, but the product otherwise remains fully functional.
New! For Windows users with less-frequent needs, the data transfer speed can be reset for up to 25 days free of charge by sharing with friends on Facebook via the in-app link.
The new version of Paragon ExtFs for Windows comes with extended support for Ext4 file formats, enabling the highest transfer speeds. The new ExtFS for Windows 4 mounts Linux volumes, including those over 2TB in size, up to two times faster than the previous version. Best of all, for owners of Paragon ExtFS for Windows Professional 3, the upgrade is free.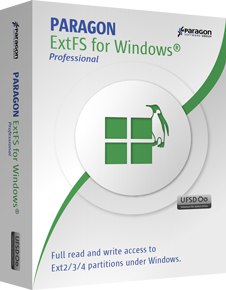 The new ExtFS for Windows mounts Linux volumes much faster, including large volumes over 2TB;

Ability to mount any number of Ext 2/3/4 partitions at once;

With ExtFS for Windows, the Linux logical volume manager retains all functionality, performing open, close, read, and write operations in the usual way!
 Learn more about Paragon ExtFS for Windows 4