Faster, More Secure, Even More Reliable, and With Support for Virtualization and Microsoft's Latest Operating System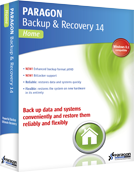 Paragon Software releases Paragon Backup & Recovery 14 Home —  the most reliable and essential backup and recovery tool for Windows PC users whether they are running Windows 8.1, Windows 2000, or something in between. The new edition comes with a host of new and enhanced features to meet the needs of the latest systems, including complete uEFI support, backup and recovery of BitLocker encrypted partitions (thus protecting PC users' data from loss and unauthorized access), and the new pVHD (Paragon Virtual Hard Drive) format for faster and more reliable backup.
"Backup & Recovery 14 simplifies the most important part of data management – regular backups and bare metal recovery. Mobile users using BitLocker will enjoy the ability to image their laptops and have protection against both – data loss and unauthorized data access. The improved image file format provides stress-free backup experience – incremental backups run 10x faster when storing to," said Konstantin Komarov, CEO of Paragon Software Group.