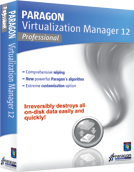 New – fastest and safest partitioning engine for all virtual management tasks. Any type of migration (P2V, V2V, V2P and P2P), including migration from 2TB+ physical drive to a smaller virtual drive.
Paragon Software's extensive research into the virtualization and data management markets found that even competent virtualization adopters had common problems with virtualization and data management. The new 12th version of Virtualization Manager Professional has been developed to solve all migration and virtual management challenges, making any type of migration or virtualization task easier and more convenient for even inexperienced users.
Want to do it fast? No problem!
Migrate your PC system to a virtual environment (P2V) or vice versa (V2P) with zero downtime.
Worried your virtual drive is smaller than physical? No problem!
Since most hypervisors do not support 2TB+ virtual drives, the 12th edition also allows migration from 2TB+ physical drives to a smaller virtual drive.
Worried testing new configurations will affect a virtual drive? No problem!
The updated Connect VD technology with non-destructive and snapshot mode assures the easiest data management and data transfer between different types of virtual machines, and allows migration from one virtual environment to another (V2V). Connect a virtual disk as if it were an ordinary physical disk and open up all physical-disk functionality in a virtual environment. Use a read-only mode or a special read/write mode that creates a snapshot and applies all changes after the snapshot was made to test all configurations without destroying your virtual source drive.
Don't know which virtualization software provider to choose? No problem!
Virtualization Manager 12 Professional is compatible with products of all popular modern virtualization software providers, such as Microsoft, VMware and Oracle, and supports major virtual machines, including Oracle Virtual Box 4, Microsoft Virtual PC, VMware™ Workstation and VMware™ Fusion.
EXPLORE additional features and benefits and don't forget to pay your attention to the usage scenarious