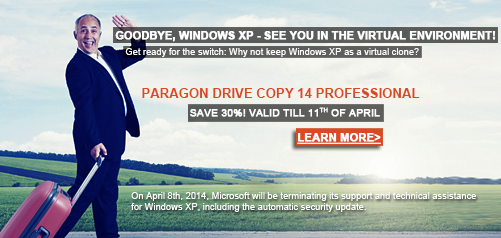 On April 8th, 2014, Microsoft will be terminating its support and technical assistance for Windows XP, including the automatic security update. This marks the end of an era.
Are you still using Windows XP? If so, you should know that the end of Windows XP support will provide compatibility problems and security risks for Windows XP users.
Get ready for the switch!
Microsoft recommends Windows XP users who want to continue employing the old system after April 8th, to use it as a virtual operating system. Switch to a new PC and don't get rid of your old one. This will make it easier and more convenient for you to switch to the new Windows. Switching to a new operating system generally takes a bit of getting used to. Windows 8 and 8.1, for instance, have a new "tile" interface and a wide range of apps, which presents a lot of changes in operation for users to adjust to. You will probably also notice that certain applications won't run on the new operating system. 
Paragon Drive Copy
allows you to transfer Windows XP to a virtual environment and create an exact clone of the software environment.
Paragon Drive Copy 14 Professional
will automatically transfer the operating system, programs, files and personal settings without losing any data.
Move your Windows XP to a virtual environment with Paragon Drive Copy 14 Professional! Now only $27.95. Valid until 11th of April.
The benefits of virtualization
You will be able to fall back on the old things you're used to and use both your new and old operating systems at the same time. The applications you're used to from the old PC can be run in a virtual environment on the new computer. This way, you can get used to all the new features step-by-step and keep using your preferred programs without having to forgo the advantages of the new, higher performance computer.
Paragon Drive Copy 14 Professional is
available for a 30% discount
between April 3 and April 11, 2014. After April 11th it returns to the regular price of $US39.95.