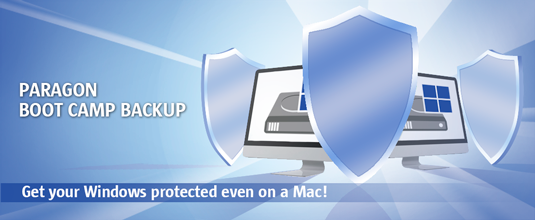 Allows sector-level backup, incremental imaging, selective restore
Paragon Boot Camp Backup is the industry's first and free OS X based backup solution for Windows partitions on Mac computers. The backup tools that are delivered with Apple's operating system do not support the Windows native file system NTFS and work on the file level only which has a negative effect on computer performance. Other third-party tools either do not run in the familiar and convenient OS X environment or they are designed for disk cloning rather than ongoing backup. Paragon Boot Camp Backup comes to rescue by backing up NTFS Boot Camp partitions at the sector level. It creates incremental chains, where each new increment describes the changes between the current state of the backup object and the previous state. This saves disk space, speeds backups, and allows recovery to a particular point in time.
Paragon Boot Camp Backup is available for free at http://www.paragon-software.com/home/bootcamp-backup/ Additional free and commercial tools for Mac users can be found at the Mac ToolBox portal, http://www.paragon-software.com/mac/
The new Paragon Mac ToolBox web portal makes it easy to find which of the company's products can be used to solve particular Mac-related problems. Some of the tools are available free of charge, while all commercial products are available on a time-limited demo basis.