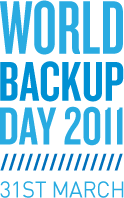 Have you already backup your data and memories? Today is the best day to think of it!
Paragon Software invites you to fight against your precious data loss on March, 31st – the World Backup Day 2011!
Due to this date we offer you not only simplest but even more affordable way to backup without worry!
SAVE up to 40% on Paragon' top-rated backup solution.
Find your coupon code and other details at Paragon Facebook page to STAY SAFE!