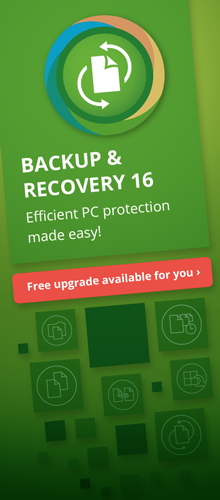 Paragon Backup & Recovery 16 is an easy-to-use system and data protection solution for Windows PCs. Thanks to its unique interface and user guidance, it is the perfect tool for both the fledgling PC user as well as the sophisticated PC professional. With Backup & Recovery 16, you can set complex backup routines quickly and easily like never before.
We would like to thank our customers who already use Paragon Backup & Recovery 15 and we offer a free upgrade for those until the 31. August 2016.
How Do I Get the Upgrade
To receive the upgrade, please login into your account and follow the instructions.
If it is the first time you log in into the new MyParagon Account, see our knowledge base for detailled information.
In the first step, we offer all our customers who have already bought Backup & Recovery 15 the possibility to get a free upgrade. This will be possible until the end of August 2016.