Manage, read, write, back up and restore data on new UEFI communications protocol standards-based machines from a PC of any OS type, even if the UEFI system is damaged!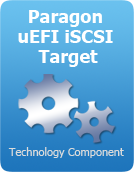 Paragon uEFI iSCSI Target is an application created to manage, backup and restore data on Unified Extensible Firmware Interface (UEFI)-based computers and servers. Paragon uEFI iSCSI Target is an essential tool for PC users and system administrators switching to UEFI, as well as a fundamental technology for hardware manufacturers bringing UEFI-supported machines to the market.
Because of its inadequate access to memory and hardware, and restrictions on disk size, architecturally limited BIOS will be replaced by UEFI in the near future on all PC systems and tablet devices. Paragon Software brings nearly 20 years of development experience to UEFI-based PC systems of all types, and is among the first developers to provide a cross-firmware solution to consumers and hardware manufacturers alike.
Paragon uEFI iSCSI Target is installed as a software application on any UEFI-based PC system or UEFI-based server. Paragon uEFI iSCSI Target grants immediate access to the UEFI-based PC or server data from any remote PC, regardless of its operating system, with the ability to work with data on UEFI-based machine as if locally connected. Paragon uEFI iSCSI Target can be used by system administrators working with corporate computer systems to quickly and efficiently recover backup files, deploy workstations, or to remotely access data on OS-damaged machines or servers.

The installation of Paragon uEFI iSCSI Target can be performed in three easy steps:
1. Configure the software on your UEFI-based PC and create a recovery USB stick.
2. Boot from Paragon uEFI iSCSI Target recovery USB stick.
3. Connect Paragon uEFI iSCSI Target through the MS iSCSI Initiator.
Become an early adopter and download this component for free>>