The fastest data transfer on SDDs
Paragon NTFS for Mac is the world's fastest application, achieving speeds of native drivers, with OS X El Capitan support. Our internal tests have proven: Paragon NTFS file system driver is the fastest one on the market! The native HFS+ driver has approximately the same read performance as Paragon NTFS for Mac.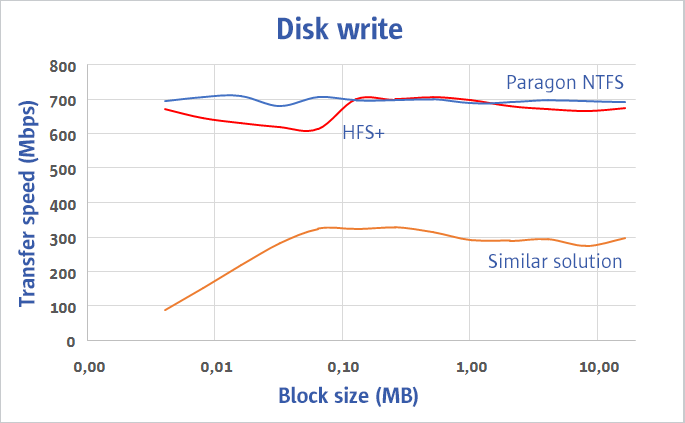 Please, visit product web-site for detailed comparison reports.
Compatibility with SIP
OS X El Capitan 10.11 offers serious defense against malware on a number of fronts, most notably System Integrity Protection (SIP for short). SIP removes administrative overrides for processes running in the background and disables root access to /usr, /bin, /sbin, and /System, preventing ANY user or application (with the exception of Mac-native installer software) from writing to those locations or modifying files residing there.
In doing so, Apple has for the first time rejected a key Unix principal by limiting the access privileges of a "superuser" (better known as root). Traditionally, users with administrator privileges could install software and generally access any part of the root-level system they so desire, while regular users had more limited access.
Because of SIP, NTFS for Mac 14 and higher now place this driver in /Library/Filesystems, relocating associated utilities to /usr/local/sbin/, where root still has full privileges. It's not only a reasonable alternative, but also remains proper Unix etiquette. Likewise, the NTFS for Mac 14 driver properly signed as a kernel extension, making it a required update for owners of earlier versions prior to upgrading to El Capitan. If you have already purchased NTFS for Mac 12 or earlier versions, please, check your personal upgrade offer here.
Check, repair, format, mount and unmounts volumes directly in Paragon NTFS for Mac preferences pane
As Disk Utility can no longer be used with Windows-formatted volumes, 'NTFS for Mac 14' offers built-in "mount" functionality.  Launch the updated preferences pane of Paragon NTFS for Mac 14 and use the NTFS volume mount functionality as before with the OS X proprietary disk utility. For advanced users support of the Windows NT file system automatically added to the command-line diskutil during installation of the NTFS for Mac driver. So you can use the the "mount_ufsd_NTFS" command to perform mounting or unmounting of NTFS partitions.
Now it is possible to format Windows NTFS files to Mac & from Mac to Windows. Format NTFS utility formats any partition as NTFS under Mac OS X 10.8 and higher. Access this feature from NTFS for Mac 14 preference pane or command line with the "fsck_ufsd_NTFS" command.
Another feature of OS X disk utility, that disappeared in EL Capitan, is to check NTFS volumes integrity and fix errors. It is also available on Paragon NTFS for Mac preference pane or via the "fsck_ufsd_NTFS" command in the terminal.
10-days to try for free
You can take advantage of full commercial product features to make sure that Paragon NTFS for Mac 14 provides the best experience and highest data transfer speed for you.
100% free online support
In case of any problems, our team of top-qualified and friendly support engineers will help you out. Ask your question on MyParagon portal or visit our Knowledge Base for a quick reference. Documentation is also always available online.
The best upgrade options guarantee 
We highly appreciate our customers and try to provide you with the best experience possible. To keep you satisfied and up-to-date, we introduced a special update policy for all Paragon NTFS for Mac product version. Particularly, users, who bought a full commercial Paragon NTFS for Mac 12 are eligible to get Paragon NTFS for Mac 14 free of charge. You can check It here. Those, who received versions 12 as a free upgrade from NTFS for Mac 11 can get a special 50% off upgrade offer in their personal MyParagon accounts. Users of earlier versions of Paragon NTFS for Mac can get the latest version with 30% discount.