Every Mac has a backup utility called Time Machine, but given the opportunity for a different backup software many Mac fans . Time Machine has its pros and cons. Under the hood of a glossy interface with "bells and whistles" it's nothing more than a simple file-backup utility, which can't even work with locked files on demand. There is no simple way of restoring your system after a disaster. You will have to restore the Mac OS then use Time Machine to restore all of your files. Obviously this isn't an ideal situation and a rather long procedure.
I want to tell you about Paragon Volume Snapshot for Mac, an application, which implements a new level of data security in the Mac World. As it can be seen from its name Snapshot for Mac is a snapshot technology application (as opposed to Time Machine). In fact Paragon Volume Snapshot is the first snapshot backup solution for Mac.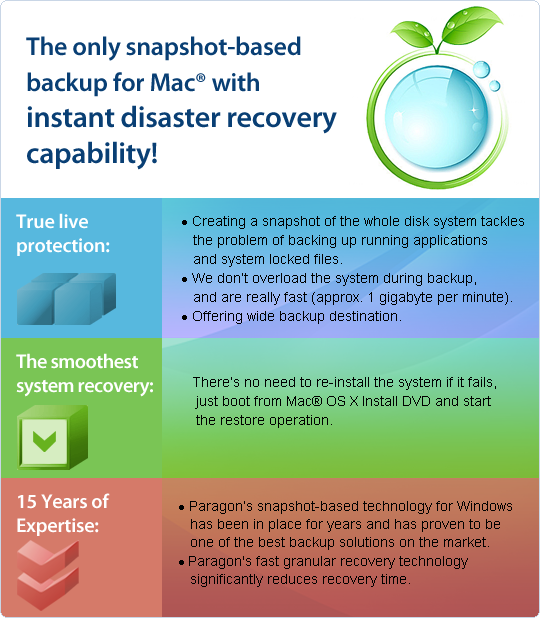 Basically a snapshot is a image of your entire hard drive including your OS and data. Snapshot for Mac is an online-backup technology, thus it's able to work with locked files and folders at the time of archive creation. It's closely related with the Disk Image utility, so in the end you will get images as well-known DMG files. And finally, you can boot your Mac with the Mac OS X installation disc; perform quick restore of your whole application environment from a DMG image in several minutes without any fuss; boot your Mac as usually and continue your work as if nothing had happened.
Let's see how to use the Paragon Volume Snapshot utility. Just click on the installation package, choose where to install Snapshot for Mac and restart your Mac. The restart is needed for kernel extension installation.
Click the Paragon Volume Snapshot icon in the Applications window, the program's main window will open.
Here you can see all available volumes on hard drives in the system. Choose one you want to backup and click the "Backup" button.
The program will ask you where you want to store the image, we suggest you to use an external media (HDD or a flash drive) for this purpose. You may be prompted to enter the administrator credentials to continue.
Then you are all set. The backup will begin and you will take your first image of your Mac and have it stored for easy recovery. The Disk Image utility takes approximately 50% of one CPU resources for the DMG packing; the process is rather quick: 1GB of data per minute.
In the end you will get a DMG file with your system and data. You can mount this image as usual and recover some files and folders, or restore your whole environment later.
Paragon Volume Snapshot for Mac is a simple but robust solution, which you can use for disaster-recovery backup of your Mac computers. It provides a new level of data security that cannot be achieved with the use of Time Machine.
If you are interested in doing an online review of our Snapshot for Mac product, leave a comment.
Let us know what you think about Paragon Snapshot for Mac or your favorite Mac backup solution and you could win a copy for yourself.